Official Logo

Chemnitz

[lrt-tram]

Country:

Germany

Line:

tram:Line 1, Line 2, Line 3, Line 4, Line 6

tram-train:C11, C13, C14, C15

Inhabitants:

City 245000, District --
DESCRIPTION
In Chemnitz (important industrial town located in Saxony) the original tram network is still operating. The tram system was opened in 1879 and electrified in 1893; it continued to be extended also during DDR regime (1972-1973, 1976-1977, 1979, 1982, 1988), as well as in the recent years (2001-2002, 2004, 2013, 2014 and 2017).
At the end of years '90s it was decided to compatibilize the existing tram and local diesel railways networks, by the addiction of new shared (tram-train) track sections and by the completion of the local railways electrication.
The first route of this new integrated tram-train system opened in 2002 (Chemnitz Hbh-Altchemnitz-Stollberg); the urban section of this route (Chemnitz Hbf-Altchemnitz, electrificated at 600 V DC as well as the whole tram network) is shared by urban tram service (Line 6: Chemnitz Hbf-Altchemnitz) and railway service (C11/City-Bahn, from Chemnitz Hbf to Stollberg). At Altchemnitz there's a system change: tramcars serving (Line 6) invert their direction returning to Chemnitz Hbf, while dual voltage traincars serving C11/City-Bahn proceede in train mode up to Stollberg (750 V DC on a recently electrified elder single track railway, with electromechanical signalling).
Other 3 tram-train routes opened in 2016: C13 (Stadlerplatz-Chemnitz Hbf-Burgstadt, along Neukieritzsch-Chemnitz railway), C14 (Stadlerplatz-Chemnitz Hbf-Mittweida, along Riesa-Chemnitz railway) and C15 (Stadlerplatz-Chemnitz Hbf-Hainichen, along Dresden-Werdau and Rosswein-Niederwiesa railways). These lines are operated by a modern diesel/electric rolling stock: along the urban section (Stadlerplatz-Cheminitz Hbf) they proceede in tram mode (600 V DC overhead), then at Cheminitz Hbf they switch into diesel mode proceeding like a DMU train along the remaining suburban part of the track.
(last modified June 26, 2018 )
HISTORY

date
section name
line
1879
initial horse tram opening
--
1893
electrification completed
--
1972
Annenstrasse-Wartburgstrasse
--
1973
Wartburgstrasse-Bernsdorf
--
1976
Brückenstrasse-Gablenzplatz
--
1977
Gablenzplatz-Gablenz
--
1979
Schule Altchemnitz-Morgenleite
--
1982
Morgenleite-Hutholz
--
1988
Falkeplatz-Schonau
--
2001
Goetheplatz-Am Flughafen
--
2002
tram-train section opening: line C11 [formerly Line 522] Chemnitz Hbf.-Altchemnitz-Stollberg
--
2004
Falkeplatz-Goetheplatz
--
15-02-2013
Theaterplatz-Hauptbahnhof new stop
--
16-06-2014
Hauptbahnhof full loop completion
--
2016
tram-train section opening: line C13 Stadlerplatz-Chemnitz Hbf-Burgstadt
--
2016
tram-train section opening: line C14 Stadlerplatz-Chemnitz Hbf-Mittweida
--
2016
tram-train section opening: line C15 Stadlerplatz-Chemnitz Hbf-Hainichen
--
10-12-2017
Stadlerplatz-Technopark
--

(last modified June 26, 2018 )




TECHNICAL DATA

Single line length (Km)

--

Single line stops

--

Single line avg. distance (km)

--

Total track length (km)

30.6

Total network stops

67

Avg. stop net distance (km)

0.45

Type

steel wheels

Current/Voltage

Tram sections (Line 1,Line 2,Line 3,Line 4,Line 6):600 V DC overhead

Tram-train sections: 600/750 V DC overhead (C11),600 V DC overhead/diesel (C13,C14,C15)

Type of guide/gauge

standard gauge rails (1435 mm)

Vehicles builder

TATRA,STADLER,ABB/BOMBARDIER,STADLER

Model

T3B-M,T3D-M,Variotram NGT6LDZ (dual mode rolling stock 600/750 V DC), CityLink (dual mode rolling stock 600/diesel)

Operator

CVAG,CBC

(last modified June 26, 2018 )
This image is shown smaller (800 x 1.026 pixels) than its maximum size (2222 x 2836 pixels)
Please click on the map to enlarge it to its maximum size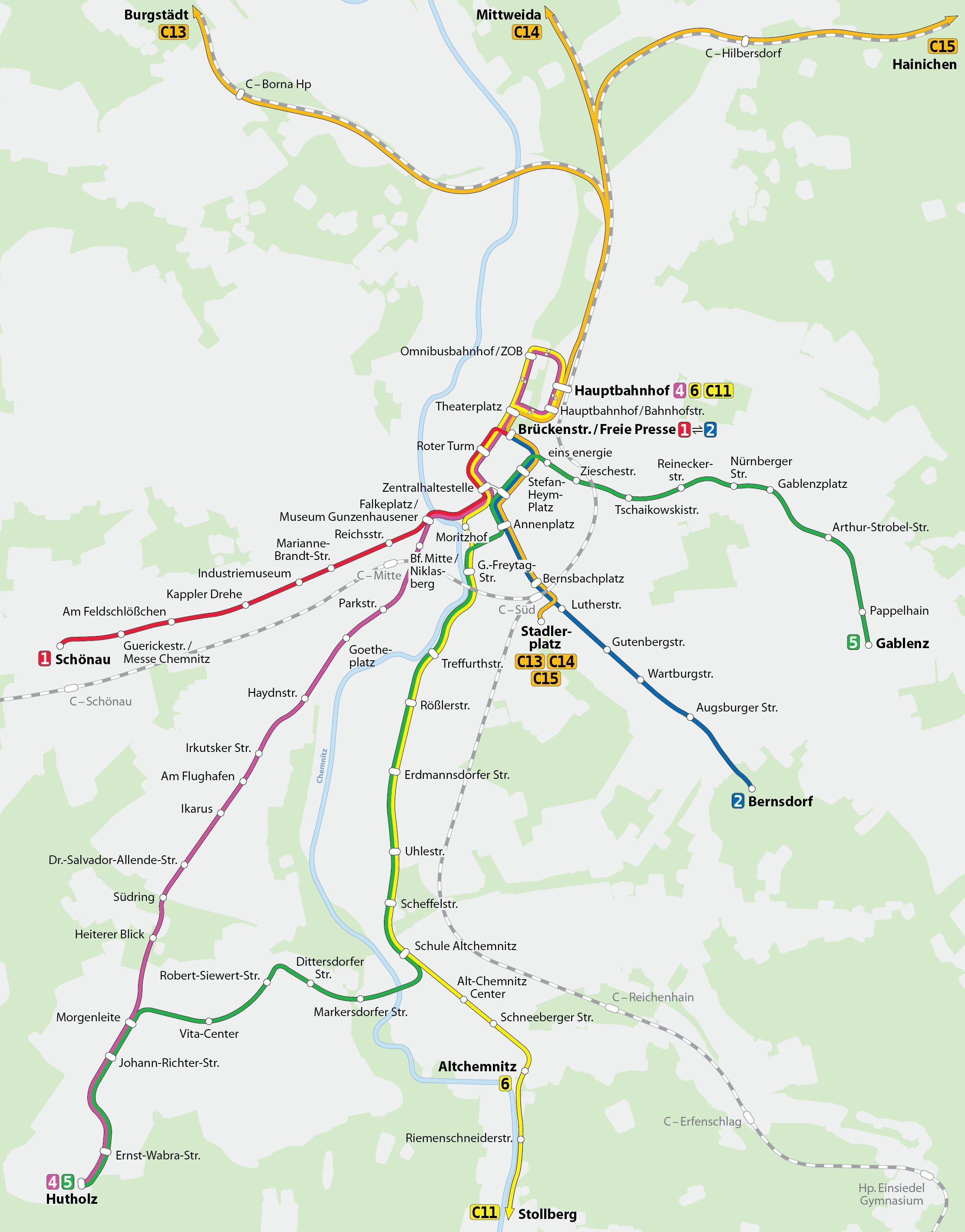 lrt-tram - chemnitz; By Master Uegly [GFDL (http://www.gnu.org/copyleft/fdl.html) or CC BY-SA 4.0 (https://creativecommons.org/licenses/by-sa/4.0)], from Wikimedia Commons

LATEST UPDATES TO THIS SITE
| | |
| --- | --- |
| apm | 19-02-2017 |
| lrt-tram | 27-06-2018 |
| metro | 26-06-2018 |
Total size of this site MB 268