DESCRIPTION
The original Strasbourg tram network opened in 1878 (initial horse tram); electrification took place in 1894. The tram service was finally closed in 1960.
In the early years '90s it was decided to realize a modern LRT/tram system; the first modern tram line (Line A) opened in 1994. Its north-south track connects Hautpierre-Maillon (north-west) with the city center (where a tunnel section runs under Gare Centrale railway station) and with the southern areas (serving the main hospital, the stadium, the university and Baggersee suburb). Line A has been extended in 1998 from Baggersee to Illkirch Lixenbuhllatter.
Line B-C opened in 2000; their track is articulated in 3 branches converging in the city centre (Place de la Republique). Line B runs from south (Lingolsheim terminal, opened in May 2008 after Elsau-Lingolsheim extension) to north (Hoenheim Gare); Line C connects south-west areas (terminating at Elsau) to south-east areas (terminating at Rodolphe Reuss stop, opened in August 2007 after Esplanade-Rodolphe Reuss extension). Line B and C serves many important urban polarities; among them, the tram depot area (Elsau), the university (south-east), the congress center (north), the suburbs of Schlitigheim, Bischheim (north) and Ostwald, Lingolsheim (south).
Line D opened in 1998; the current route runs west-east from Poteries to Kehl-Bahnhof. Line E opened in 2007 running from Baggersee (south-east) to Robersau Boecklin (north-east), serving the European Parlament.
Line F opened in 2010. It runs from Elsau (west) to Place d'Islande (east) and it's considered the urban section of a future tram-train line Strasbourg-Bruche-Piemont des Vosges (using the existing TER Alsace railway tracks); Line F partly runs along Line B tracks (Elsa-Homme de Fer), Line B-C tracks (Homme de Fer-Republique section) and Line C tracks (Republique-Observatorie).
this map is shown here at its maximum resolution (800 x 945)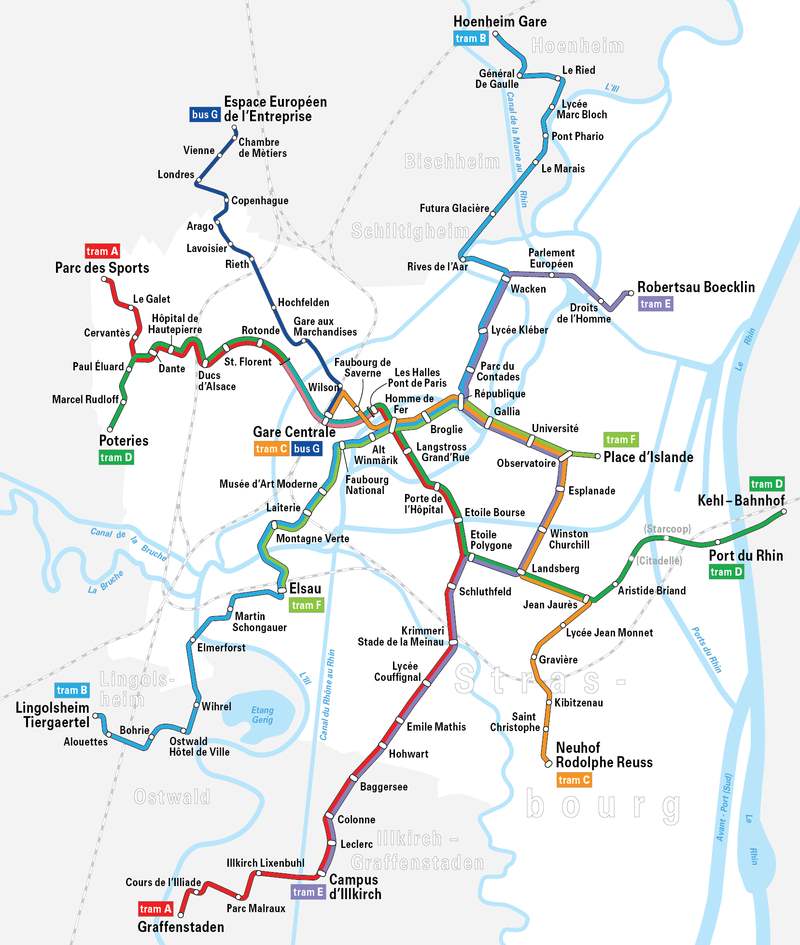 lrt-tram - strasbourg; By Maximilian Dorrbecker (Chumwa) (Self made, based on a transport map from the CTS) [CC BY-SA 2.5 (https://creativecommons.org/licenses/by-sa/2.5)], via Wikimedia Commons