please, hold the mouse on the logo

Milan

[lrt-tram]

Country:

Italy

Line:

Tram:Line 1, Line 2, Line 3, Line 5, Line 9, Line 12, Line 14, Line 16, Line 19, line 23, Line 24, Line 27, Line 33, Line 179

Metrotranvie (Fast Tram):Metrotranvia Nord (Line 4), Metrotranvia Sud (Line 15), Metrotranvia Interperiferica Nord (Linea 7), Metrotranvia Milano-Cinisello Balsamo (Line 31)

Inhabitants:

City 1340000, District 8070000
DESCRIPTION
Milan tram service (initially operated as horse tram) opened in 1876 (Milan-Monza) and 1877 (Milan-Saronno); the electrification was completed in 1901. The tram network was continuously extended during the years, becoming one the most extended in Europe; the maximum development of the network was reached in 1940 (more than 300 km).
Some important reductions occurred in the successive decades, due also to the insertion of the new metro network, but differently from other towns the tram operations never had complete or massive interruptions. The current length of the tram system is about 170 km.
In the last years the tram network has been renewed and modernized by the adoption of a modern low floor rolling stock and by the addiction of new modern LRT lines ("metrotranvie") characterized by a relevant lane segregation in many sections and/or right-of-way at the grade level crossings. These innovations have increased the average commercial speed and the system efficiency.
The first of the so-called "metrotranvie" (Line 7 or Metrotranvia Interperiferica Nord: from Mattei-Bicocca to Zara-Lagosta) started its operations at the end of year 2002; it was extended in 2003 from Lagosta to Procaccini. Line 7 interchanges with metro M1 (at Precotto), with M3 (at Zara) and with driverless metro M5 (at Zara, Marche, Istria, Ca' Granda and Bicocca).
Line 4 or "Metrotranvia Nord" (from Parco Nord to Largo Cairoli) and Line 15 or "Metrotranvia Sud" (from Piazza Fontana to Rozzano) opened at the end of 2003. Line 4 interchanges with metro M3 (at Maciachini) and metro M2 (at Lanza); Line 5 interchanges with M1 (at Piazza Venezia), with M2 and M3 (at Stazione Centrale) and with driverless metro M5 (at Marche, Zara, Istria and Ca' Granda).
Line 31 or "Metrotranvia Milano-Cinisello Balsamo" opened on 7 December 2008, connecting Lagosta to Cinisello Monte Ortigara; it shares part of its track with Line 7/Metrotranvia Interperiferica Nord. It interchanges with metro M5 (at Bicocca, Ponale and Bignami).
(last modified February 19, 2017 )
HISTORY

date
section name
line
1876
first horse tram line:Milan-Monza
tram
1877
second tram line:Milan-Saronno
tram
1878
network extension
tram
1879
network extension
tram
1880
network extension
tram
1881
network extension
tram
1901
electrification completed
tram
1910
network extension
tram
1931
network extension
tram
1939
network reached its peak lenght of about 300 km
tram
1957
tram sections removal in the city centre due to metro construction
tram
1964
outer extension to Taliedo
tram
1969
outer extension to Gratosoglio
tram
1970
network contraction due to the elimination of duplicated routes
tram
1981
tram section opened along via Larga
tram
1992
Gratosoglio-Rozzano extension;some section closed due to Metro M3 construction
tram
07-12-2002
Procaccini-Bicocca
Metrotranvia Interperiferica Nord
07-07-2007
Bicocca-Precotto
Metrotranvia Interperiferica Nord
07-12-2003
Piazzale Maciacchini-Niguarda Parco Nord
Metrotranvia Nord
07-12-2003
Porta Ludovica-Abbiategrasso
Metrotranvia Sud
07-12-2008
Piazzale Lagosta-Cinisello
Metrotranvia Milano-Cinisello

(last modified February 19, 2017 )




TECHNICAL DATA

Single line length (Km)

Tram:152

Metrotranvia Nord:7.1

Metrotranvia Sud:10.5

Metrotranvia Interperiferica Nord:7.1

Metrotranvia Milano-Cinisello Balsamo:8.7

Single line stops

Tram:--

Metrotranvia Nord:19

Metrotranvia Sud:30

Metrotranvia Interperiferica Nord:27

Metrotranvia Milano-Cinisello Balsamo:25

Single line avg. distance (km)

Tram:--

Metrotranvia Nord:0.4

Metrotranvia Sud:0.35

Metrotranvia Interperiferica Nord:0.3

Metrotranvia Milano-Cinisello Balsamo:0.35

Total track length (km)

170

Total network stops

--

Avg. stop net distance (km)

--

Type

steel wheels

Current/Voltage

600 V DC overhead

Type of guide/gauge

1445 mm gauge rails

Vehicles builder

BREDA/CARMINATI TOSELLI/OFFICINE MECCANICHE LODIGIANE/OFFICINE MECCANICHE REGGIANE/OFFICINE ELETTROFERROVIARIE TALLERO,OFFICINE MECCANICHE DELLA STANGA/BREDA,FIAT FERROVIARIA/OFFICINE MECCANICHE DELLA STANGA,ADTRANZ,ANSALDO BREDA

Model

serie 1500,serie 4600,serie 4700,serie 4900,Eurotram,Sirio

Operator

AZIENDA TRASPORTI MILANESI (ATM)

(last modified February 19, 2017 )
this map is shown here at its maximum resolution (800 x 1312)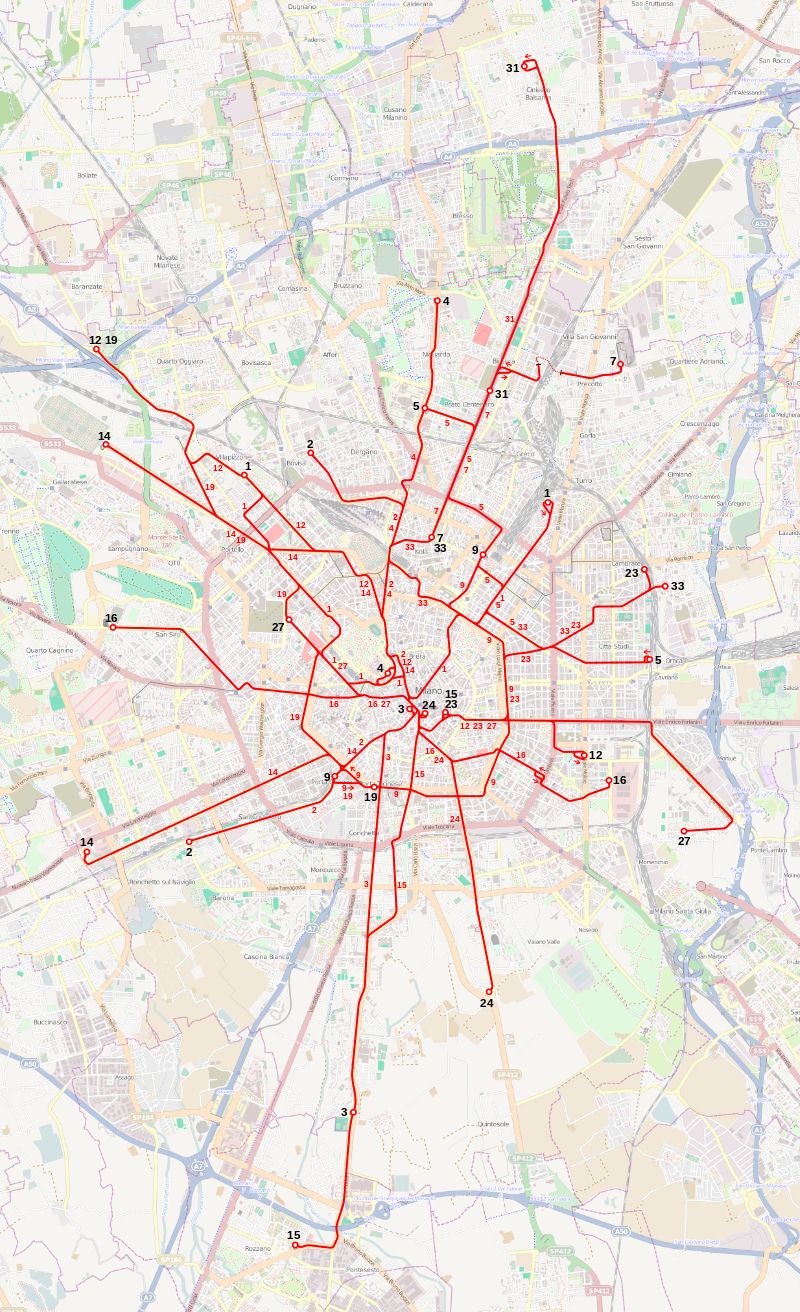 lrt-tram - milan; By Friedrichstrasse (openstreetmap.org) [ODbL (http://opendatacommons.org/licenses/odbl/1.0/) or CC BY-SA 2.0 (http://creativecommons.org/licenses/by-sa/2.0)], via Wikimedia Commons

LATEST UPDATES TO THIS SITE
| | |
| --- | --- |
| apm | 19-02-2017 |
| lrt-tram | 27-06-2018 |
| metro | 26-06-2018 |
Total size of this site MB 268