Official Logo

Turin

[lrt-tram]

Country:

Italy

Line:

Line 3, Line 4, Line 6, Line 7[heritage tram], Line 9, Line 9/, Line 10, Line 13, Line 15, Line 16cs, Line 16cd

Inhabitants:

City 910000, District 1300000
DESCRIPTION
Turin manteins its original tram network which opened in 1871 (first Italian horse tram) and it was electrified in 1898.
During years '80s new LRT/rapid tram lines had to be added, but just one (Line 3) was actually completed in 1987, connecting Vallette to Largo Tortona; two years later (1989) it was extended up to Hermada terminus (crossing river Po').
A new tram line was added in 1990 (just before 1990 FIFA World Cup); Line 9 connects Torino Esposizioni to Stampalia, serving the law court offices and some Universtity faculties. A specific branch (called "Line 9/") occasionally serves Juventus Stadium.
The current tram main route is Line 4, which runs north-south along one of the most important urban road axis (Corso Giulio Cesare-Corso Unione Sovietica), passing through the city centre. In 2001 the southern part of this line has been extended from piazzale Caio Mario to Strada del Drosso (Mirafiori sud); other northern extensions were completed in 2003 (from Piazza Derna to Piazzale Autostrade/strada delle Cascinette) and 2006 (from Cascinette to Falchera/via delle Querce). This last extension partly runs in tunnel underneath Milan-Turin railway, with an important underground stop at Stura railway station (close to an interchange parking facility).
An heritage tram line (Line 7) was opened in 2011, along the circular route Piazza Castello-Duomo-Piazza Castello.
(last modified February 19, 2017 )
HISTORY

date
section name
line
1871
first tram line
--
1897
electrification completed
--
1949
max network extension: 26 lines
--
1966
routes closure
--
1987
Le Vallette-Largo Tortona
Line 3
1989
Largo Tortona-Hermada
Line 3
1990
Torino Esposizioni-Stampalia
Line 9
2001
Caio Mario-Strada del Drosso
--
2003
Pizza Derna-Piazzale Autostrade Cascinette
--
2006
Piazzale Autostrade Cascinette-Falchera via delle Querce
--
28-03-2011
Piazza Castello circle line/heritage tram
Line 7
2013-2016
Line 13 temporally replaced by buses
--
09-12-2013
Line 3 cut back from Hermada to Osp. Gradenigo
--
07-01-2016
Line 13 restored between Campanella and Gran Madre
--

(last modified February 19, 2017 )




TECHNICAL DATA

Single line length (Km)

--

Single line stops

--

Single line avg. distance (km)

--

Total track length (km)

84

Total network stops

187

Avg. stop net distance (km)

0.45

Type

steel wheels

Current/Voltage

600 V DC overhead

Type of guide/gauge

1445 mm gauge rails

Vehicles builder

STANGA/MONCENISIO/OMS/SEAC,SEAC,FIAT FERROVIARIA

Model

serie 2800,serie 5000,serie 6000 (Cityway)

Operator

GTT

(last modified February 19, 2017 )
this map is shown here at its maximum resolution (800 x 996)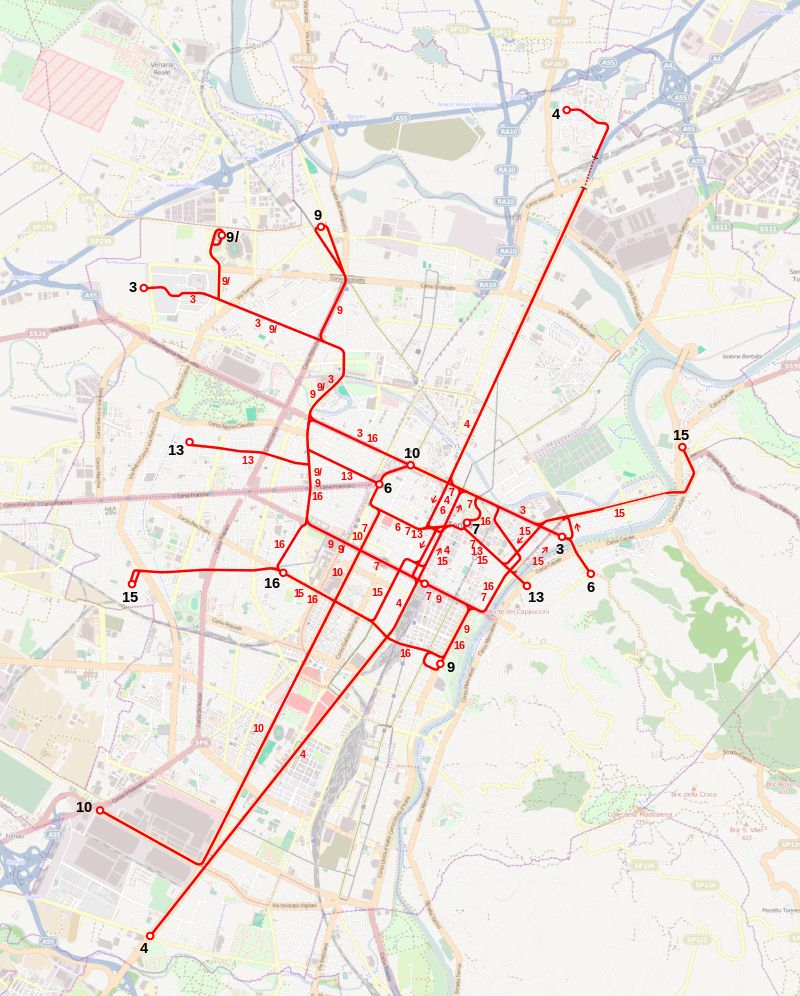 lrt-tram - turin; By Arbalete [GFDL (http://www.gnu.org/copyleft/fdl.html) or CC BY-SA 3.0 (http://creativecommons.org/licenses/by-sa/3.0)], via Wikimedia Commons

LATEST UPDATES TO THIS SITE
| | |
| --- | --- |
| apm | 19-02-2017 |
| lrt-tram | 27-06-2018 |
| metro | 26-06-2018 |
Total size of this site MB 268