DESCRIPTION
Toulouse transit network combines a modern driverless metro system with a modern LRT/tram system.
The first automated metro line (Line A) opened in 1993, running from Basso Cambo to Jolimont along an eminently radial route; it was extended in 2003 (Jolimont-Balma Gramont). Line A is connected to the railways network at Marengo-SNCF and Arenes stops, where it also interchanges with tram T1 and T2. Two important parking facilities are located close to Basso Cambo and Balma Gramont (that's strictly connected with an important commercial centre) current terminals; another parking facility is located close to Jolimont (former northern terminal).
The second driverless metro line (Line B) opened in 2007 (Ramonville-Borderouge); it interchanges with metro Line A (in the city centre, at Jean-Jaures), with the tram lines T1 and T2 (at Palais de Justice) and with the railways network (at Saint Agne-SNCF). Two relevant car parking areas are located close to the terminals (Borderouge, Ramonville); other intermediate car parking facilities are located close to Carmes, Compans Caffarelli and Saint Michel stops.
This image is shown smaller (800 x 860 pixels) than its maximum size (1024 x 1099 pixels)
Please click on the map to enlarge it to its maximum size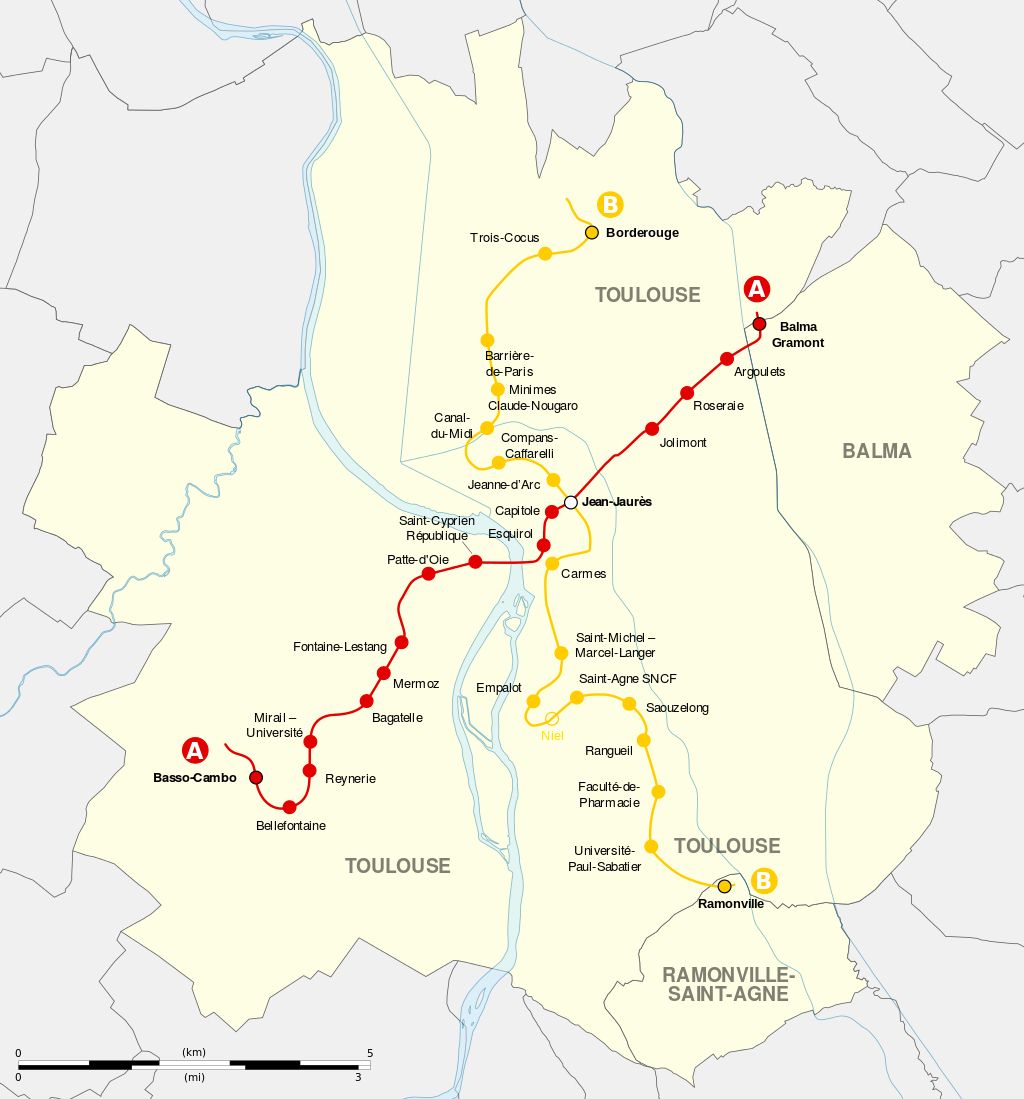 metro - toulouse; By Plan metro tramway Toulouse.svg: Semhur (Plan mÚtro tramway Toulouse.svg) [CC BY-SA 4.0-3.0-2.5-2.0-1.0 (http://creativecommons.org/licenses/by-sa/4.0-3.0-2.5-2.0-1.0) or GFDL (http://www.gnu.org/copyleft/fdl.html)], via Wikimedia Commons