DESCRIPTION
Lille first driverless metro line (Line 1) opened in 1983, linking 4 Cantons and Republique. One year later (02-05-1984) the entire Line 1 was in service from C.H.R.B/Calmette to 4 Cantons.
The second driverless line (Line 2) started its service on April 1989, running from St.Philibert to Gare Lille Flandres; new addictions were completed in 1994 (from Gare Lille Flandres to Gare Lille Europe TGV railway station) and 1995 (Gare Lille Europe-Fort de Mons). Other two addictions opened in 1999 (Fort de Mons-Tourcoing Centre) and 2000 (Tourcoing Centre-C.H. Dron).
Lille metro network is articulated in two radial lines with a consistent developement in Lille suburban area. The 2 lines join each other in the city centre at Gare Lille Flandres and Porte de Postes, creating two central sections. One is eminently radial (Line 1: Porte des Postes-Gambetta-Gare Lille Flandres), the other (Line 2: Porte des Postes-Porte de Valenciennes-Gare Lille Flandres) links many of the old city gates (Porte de Postes, Porte d'Arrais, Porte de Ouai, Porte de Valenciennes). Metro system assures remarkable interchanges with the railway system (Gare Lille Flandres, Gare Lille Europe TGV railway station and other regional railway stations); important "park and ride" facilities are located along the track (e.g. Calmette, 4 Cantons and St. Philibert).
This image is shown smaller (800 x 792 pixels) than its maximum size (1024 x 1010 pixels)
Please click on the map to enlarge it to its maximum size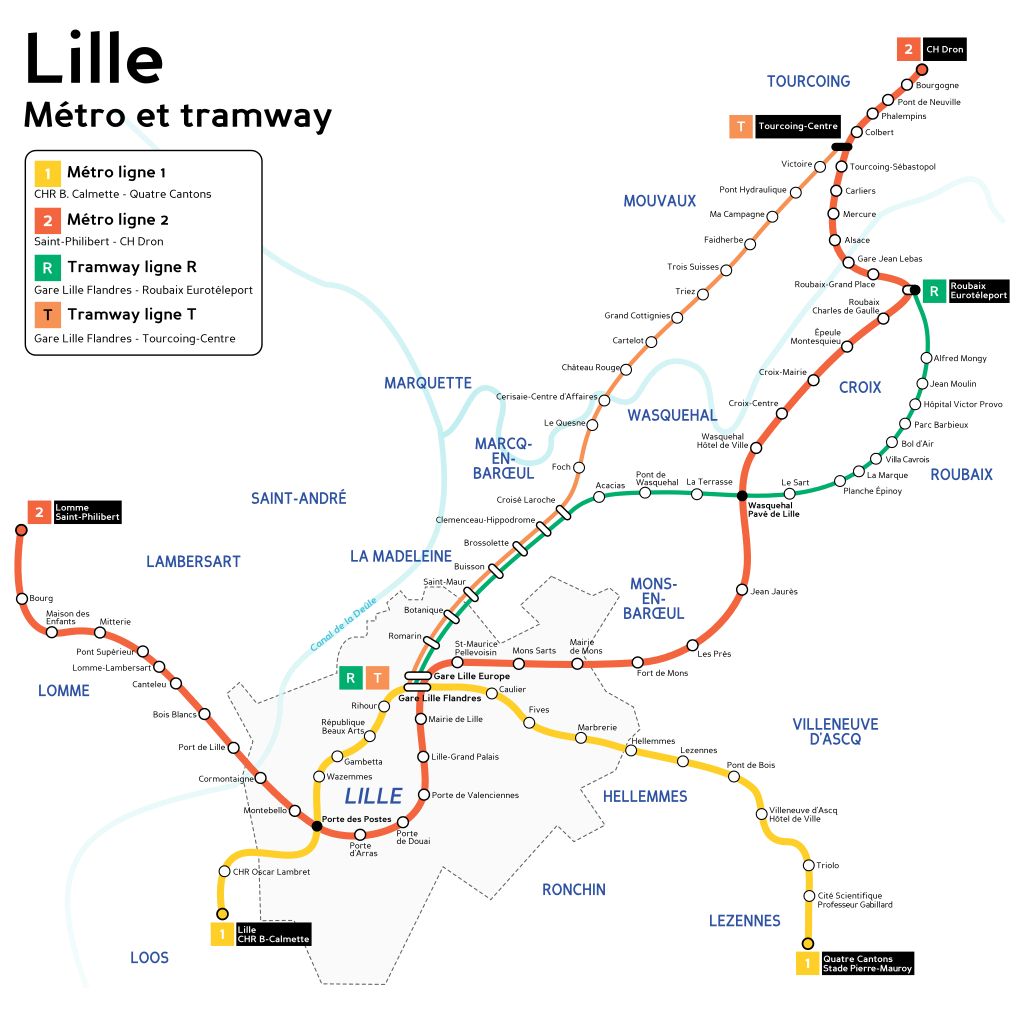 metro - lille; By Mortadelo2005 (basè sur cette carte.) [GFDL (http://www.gnu.org/copyleft/fdl.html), CC-BY-SA-3.0 (http://creativecommons.org/licenses/by-sa/3.0/) or CC BY 2.5 (http://creativecommons.org/licenses/by/2.5)], via Wikimedia Commons