Nizhniy Novgorod
[metro]
Country:
Russian Federation
Line:
Line 1 (Avtozavodskaya), Line 2 (Sormovskaya)
Inhabitants:
City 1250000, District --
DESCRIPTION
Nizhniy Novgorod (former Gorky, from 1932 to 1990) population overtook the million of inhabitants in years '70s, getting the necessary Soviet standard for a metro network. Works started in 1977 and the first section opened in 1985 (Moskovskaya-Proletarskaya); it was extended in 1987 (Proletarskaya - Komsomolskaya), 1989 (Komsomolskaya-Park Kultury), 1993 (Moskovskaya-Burnakovskaya), 2002 (Burnakovskaya-Burevestnik) and 2012 (Moskovskaya-Gorkovskaya). The metro service is articulated in 2 lines: Avtozavodskaya Line (from Moskovskaya to Proletarskaya) and Sormovskaya Line (from Burevestnik to Stelka). Avtozavodskaya Line and Sormovskaya Line interchange at Moskovskaya stop.
This metro system is fairly different from the typical Soviet scheme (3 radial lines forming a triangle in the city centre), because of the characteristic morphology of the city. Nizhniy Novgorod is close to the inflow of the River Oka into the River Volga; its city centre is located on the right bank and the main industries (Krasnoye Sormovo, GAZ) and the residential suburbs for their workers (Kanavino, Sormovo, Avtozavodal) on the left bank of River Oka. The initial plan of the network was based on 2 lines joining each other at Moskovskaya interchange stop (4 tracks stop), close to the railways station; the first phase was centered on the industrial and residential areas located on the left bank of River Oka, while new extensions crossing Oka and Volga rivers were expected only in a second phase. The original plans were deeply modified by the collapse of USSR and the subsequent economical and social changements; in Nizhniy Novgorod, as well as in other former Soviet cities, new tertiary activities (mostly located in the city centre) took the place of many industrial activities, so that the cross of River Oka (completed in 2012 with Moskovskaya-Gorkovskaya extension), had become a priority, more than Sormovskaya western extensions.
(last modified June 26, 2018 )
HISTORY

date
section name
line
02-11-1985
Moskovskaya-Proletarskaya
Line 1/Avtozavodskaya
08-08-1987
Proletarskaya-Komsomol'skaya
Line 1/Avtozavodskaya
15-11-1989
Komsomol'skaya-Park Kul'tury
Line 1/Avtozavodskaya
09-09-2002
Burnakovskaya-Burevestnik
Line 1/Avtozavodskaya
20-12-1993
Moskovskaya-Burnakovskaya
Line 2/Sormovskaya
04-11-2012
Moskovskaya-Gorkovskaya
Line 2/Sormovskaya
13-06-2018
Moskovskaya-Strelka
Line 2/Sormovskaya

(last modified June 26, 2018 )




TECHNICAL DATA

Single line length (Km)

Line 1:14.8

Line 2:6.5

Single line stops

Line 1:11

Line 2:5

Single line avg. distance (km)

Line 1:1.5

Line 2:1.3

Total track length (km)

21.3

Total network stops

16

Avg. stop net distance (km)

1.30

Type

steel wheels

Current/Voltage

825 V DC from third rail

Type of guide/gauge

1524 mm gauge rails

Vehicles builder

VAGONMASH, METROWAGONMASH

Model

81-714/717

Operator

MOUP NIZHEGORODSKI METROPOLITEN

(last modified June 26, 2018 )
this map is shown here at its maximum resolution (683 x 966)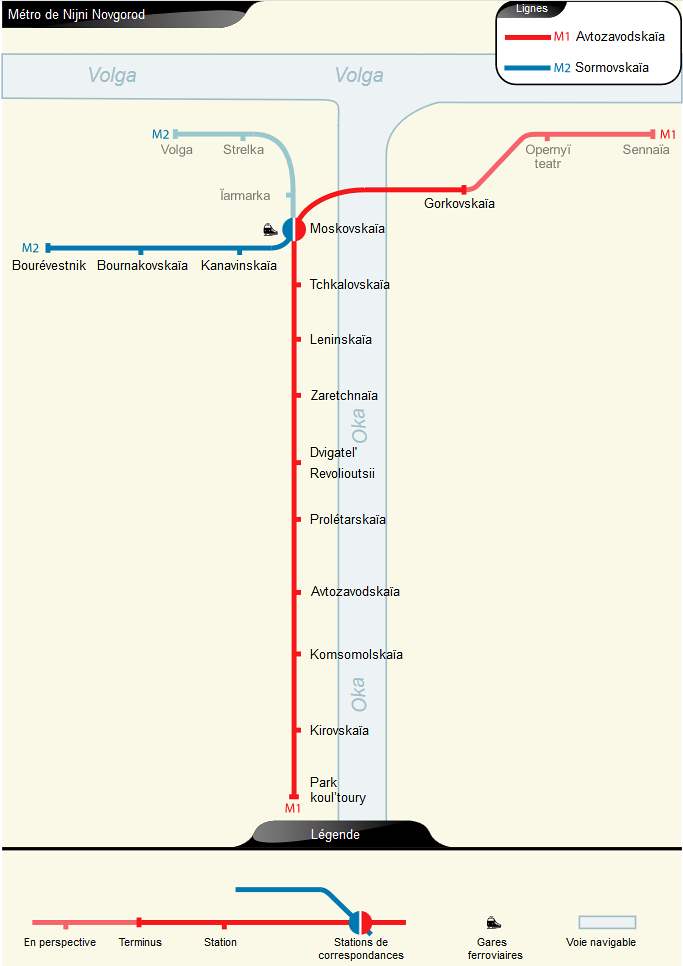 metro - nizhniy novgorod; By AlexTref871 [CC BY-SA 4.0 (https://creativecommons.org/licenses/by-sa/4.0)], from Wikimedia Commons

LATEST UPDATES TO THIS SITE
| | |
| --- | --- |
| apm | 19-02-2017 |
| lrt-tram | 27-06-2018 |
| metro | 26-06-2018 |
Total size of this site MB 268