DESCRIPTION
Plans for Stockholm metro system were eleborated during years '40s; the current metro network consists in 3 lines (Green Line, Red Line, Blue Line).
The first metro line (Green Line/Grona Linjen) opened in 1950 (Slussen-Hokarangen), partly along a former underground railway track; it was extended in 1951-1952, 1954, 1956-1960, 1971 and 1994. Green Line currently runs from Hasselby Strand (west) to Gullmarksplan (east), where it branches in southern direction to Hagsatra, Farsta Strand and Skarpnack. It interchanges with Blue Line (Bla Linjen) at Fridhemsplan, with Red Line (Roda Linjen) and Blue Line at T-Centralen and it shares part of its track with Red Line (T-Centralen-Slussen).
The second metro line (Red Line/Roda Linjen) opened in 1964 (T Centralen-Fruangen;Liljeholmen-Ornsberg) and it was extended in 1965, 1967, 1972-1973, 1975 and 1978. It currently runs from Liljeholmen (where it branches south-west to Norsborg and south to Fruangen) to Ostermalmstorg (where it branches in northern direction to Morby Centrum and Ropsten).
The third line (Blue Line/Bla Linjen) opened in 1975 (T Centralen-Hjulsta via Hallonbergen/Rinkeby) and it was extended in 1977 and 1985 and 1978. It currently runs from Kungstradgarden (east) to Vastra Skogen (where it branches in north-western direction to Hjulsta and Akalla).
This image is shown smaller (800 x 696 pixels) than its maximum size (1024 x 891 pixels)
Please click on the map to enlarge it to its maximum size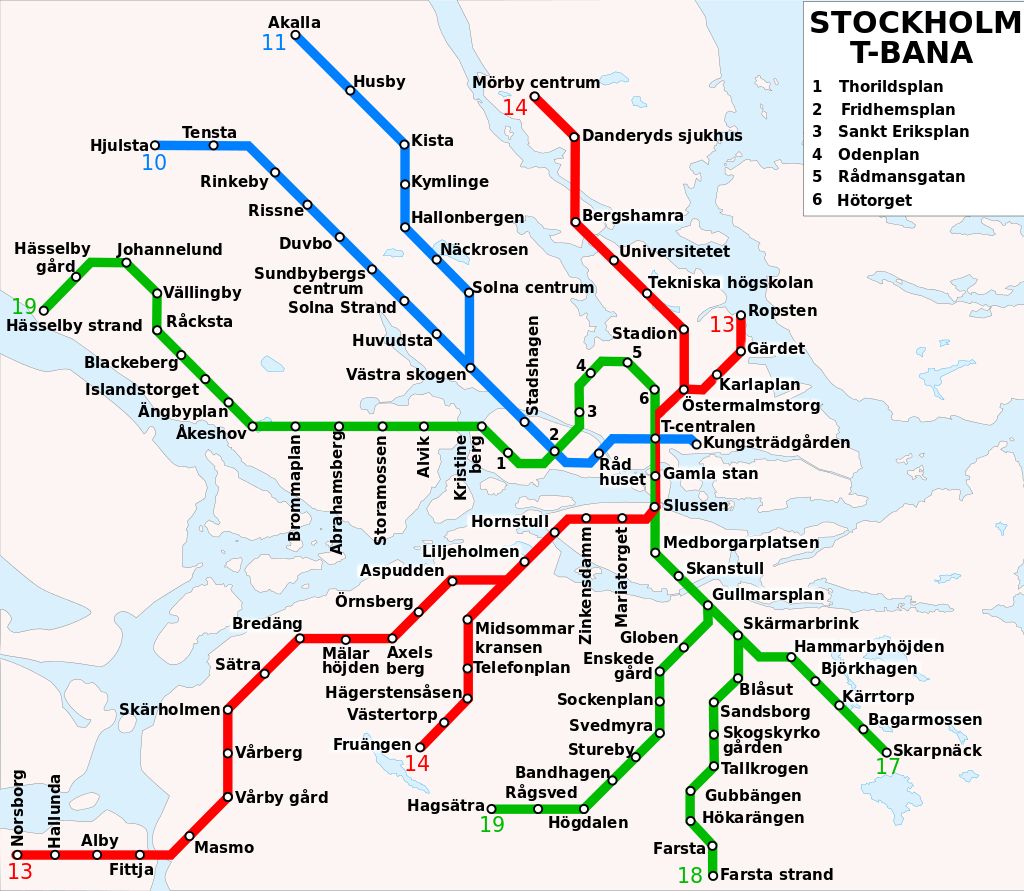 metro - stockholm; By user:xyboi, redraw by Stonyyy (Stockholm_metro_map.png) [CC BY-SA 3.0 (http://creativecommons.org/licenses/by-sa/3.0)], via Wikimedia Commons